Did you ever have a tree house or cool hiding spot when you were growing up? When I was a kid my dad built my brothers and sisters and I an awesome fort in our yard in Colorado. I would love to hide in there (especially if it was nap time). Sometimes we would build the coolest forts out of boxes and bed sheets in the living room and then spend the night there with our sleeping bags. When it would snow, after the guy plowed up a massive pile in the back, we would dig tunnels and make snow castles to play capture the flag. Do you have memories like that?
Its funny how we grow up isn't it? Cardboard boxes go rom being toys, to something to pack with. Snow becomes something to shovel out of the driveway instead of forts and snow angels. Running and jumping rope becomes exercise instead of fun. But such is life and such is the clock. I am just so glad that our Master Jesus said we HAVE to be like children! So even though our body changes, its not like we become a different creature. We have the same child inside. And no matter how old we get, I think we could all agree that if we saw a tree house, we would want to climb up there and hide a minuet:)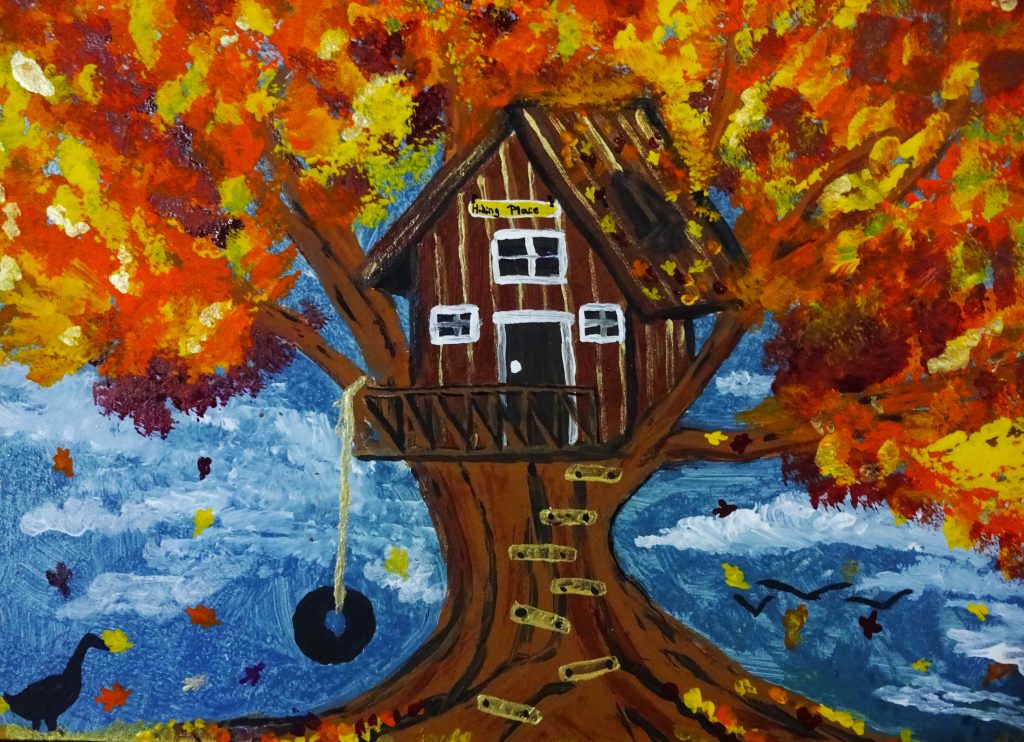 Really, now as adults, it seems like now we yearn for a place to hide even more then when we were kids. A place to hide from our problems and pain and escape the darkness around us and the darkness inside us. We all carry scars. Many try to hide in a job, turn to drugs, medication, or a "church" and yet find no answer to the turmoil within. I know life is hard my friend, but don't give up, you are not alone. We are all quick to talk about our problems, but can we be quite long enough to listen and hear the answer?
Just think about God a second, and think about the way you think about Him. He is not a preacher, pastor, one time prayer or hour on Sunday. He is a Father. He is a refuge, a hiding place, a shelter. When you get a chance, read these scriptures, Psalms.32:7,91:1,61:4. Jesus walked this same cold dark world in the feet of His Son Jesus. Jesus bore all our pain, sorrow and sin when He was nailed to the tree. He carried our scars. No matter what you have done, He can forgive you. Jesus is alive today. He is the way to the "Fathers house" (Jn.14:2). You don't need to go to a building. Jesus said, "Come to Me" "Abide in Me". He is the "Tree House"(Read John.15/Mt.11:28).
I have traveled to over 50 countries, talking to people in prisons, wheel chairs, hospitals, wars and impossible situations. I also have suffered a lot in my life and dealt with both physically and emotional pain. But no matter where you are, or who you are, there is a very real hiding place you can find. A place built with focus and stillness. Can you silence all the noise? Get alone. Stop your racing mind and sit quietly. Study the New Testament starting with the Gospel of John. As you read, speak words from your heart to Jesus. Life is just so fragile and flies by so quickly. We don't know how many days we have left. Be like a child. "Be still…"(Psalm.46:10) Build your "tree house" in solitude and reality,  and you will forever have a refuge from all the storms of life.
A short story with the same idea:
Every day little Pete would run home from school and play in his tree house. When his parents fought, when he had a bad day, when his brother left for war and his mother died of cancer, Pete would go to his tree house to cry, to hide and to find comfort in the solitude of the branches. It was his place, his refuge.
Well as time goes Peter grew up, moved to a new city and left the tree house. Peter's life was full of turmoil and stress. His mind was full of anxiety and his heart was full of sadness. He hated his job, hated his marriage and did not know how to deal with the darkness around him or the darkness inside him. He looked to alcohol, to medication and to some different churches. Nothing helped. He thought back to his childhood tree house and longed for a place like that where he could hide.
One day, Peter sat under an oak tree and stared up at the clear blue sky. He leaned his head against the trunk as he watched the wind move through the trees. He watched the clouds and the birds and the sunlight. He stopped his mind from running and silenced all the noise. He was completely still. And he thought to himself, surely there is a God. Surely He is a Father and created me for a purpose I don't yet know. He said, "Jesus save me. Forgive me. I want to be born again". And in that moment, Peter found his tree house.